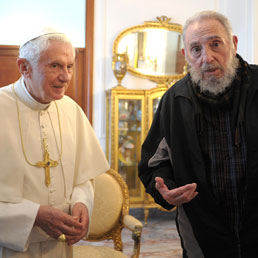 Declan Ganley's

Catholic faith

is on the hard right of the Catholic church. It is the hate wing of the church where love does not abound.
If Pope Benedict can meet Fidel Castro them surely Galway can

honor

the revolutionary hero Che
Guevara
Lynch.
It is clear that Ganley and his Yale moputhpiece would prefer it if Batista and the 5 New York families were still in charge in Cuba. This may be because of Ganley's neo con tendencies , however it may

also

be related to his in-law outlaws who include at least one convicted

financial

scammer
Peter T. Caserta. NB Declan's brother in law
Mr. Paterek, Mr Castera's nephew ,was eventually not convicted. Castera took the rap though.
Che for Galway not the Gobeen man living in Tuam who funded Fianna Fail and paid Liam Lawlor to work for him in Albania ie Declan Ganley himself
The New York Times
March 24, 1995, Friday, Late Edition - Final
Ex-Spectrum President Among 10 Indicted
BYLINE: By SUSAN ANTILLA
SECTION: Section D; Page 5; Column 1; Business/Financial Desk
LENGTH: 729 words
Another bizarre chapter ended yesterday in the saga of Spectrum Information Technologies Inc., as a Federal grand jury in Brooklyn indicted the former president of the troubled company and nine of his business associates.
The wife, son-in-law, and nephew of Peter T. Caserta, 55, former chief executive of Spectrum, were among those named in the indictment, as was James Paterek, who runs Spectrum Global Services Inc., a subsidiary of Spectrum, which is based in Manhasset, L.I.
The Government said Mr. Caserta and his colleagues at the Caserta Group had engaged in a huge fraud, in which 300 companies in 23 states were bilked of more than $6 million from 1988 to 1994. The employees of Caserta charged naive entrepreneurs as much as $40,000 each, said Sean O'Shea, assistant United States attorney for the Eastern District of New York, promising small companies that Saudi princes and investors from Hong Kong to Switzerland would provide the financial backing the companies needed to grow.
Victims who expressed reservations about the Caserta Group would be given references that included Mr. Paterek, who is Mr. Caserta's nephew. Typically, after getting entrepreneurs excited about their chances of qualifying for fantastic amounts of financing, the Caserta employees would ultimately deliver the bad news that their "due diligence" had shown that the companies did not qualify after all, Mr. O'Shea said in an interview.
Spectrum, which filed for bankruptcy on Jan. 26, became an instant corporate superstar in October 1993, when it stunned Wall Street and corporate America by announcing that John Sculley, the former chairman of Apple Computer Inc., would become its chief executive.
Indeed, Spectrum achieved a sufficiently high profile that employees of the Caserta Group would sometimes take their victims on tours of the Spectrum headquarters, making the false claim that the Caserta Group had arranged for Spectrum's financing, Mr. O'Shea said. The Caserta Group was run from an office two floors below those of Spectrum.
Spectrum had previously been a faceless technology company best known to small investors who heard its praises sung on business programs on local cable television stations. Mr. Sculley, who at the time he was hired knew little of Spectrum's problems with its businesses and securities regulators, resigned from Spectrum less than four months later, suing Mr. Caserta for fraud in the process. Mr. Caserta filed a countersuit, but both men eventually dropped their suits.
Spectrum has gone through three chief executives and 15 board members since January 1994 -- an executive suite revolving door that ultimately left Mr. Sculley with a scarred reputation and Mr. Caserta with a new career as the proprietor of Pasta Luna, an Italian restaurant in Richmond. The current chief executive of the company, Donald J. Amoruso, was hired on Dec. 30, after a nine-month search to replace a predecessor who resigned after nine days.
The defendants named yesterday are charged with a total of 102 counts of mail and wire fraud.
Federal agents arrested five employees of the Caserta Group, also known as the Paradigm Group, on similar charges on March 22, 1994. Though Mr. Caserta was not among those arrested last year, he was named in the indictment yesterday.
Andrew Maloney, a lawyer who represents Mr. Caserta, said he would not allow his client to speak to reporters. While he had not yet seen a copy of the indictment, he said in an interview yesterday that if the charges were similar to those outlined at the time of the arrests, "I'm saying loud and clear we believe him to be innocent."
Investors have rushed to file class-action suits against Spectrum, whose market value has plummeted from nearly $1 billion after Mr. Sculley was hired to $43 million, based on a closing price of 56.25 cents a share yesterday, unchanged for the day in Nasdaq trading. Among the contentions of the lawsuits: that Mr. Caserta made millions of dollars in profits by selling his personal shares on the news that Mr. Sculley would be at the helm.
Michael Freitag, a spokesman for Spectrum at Kekst & Company, said his client had not seen the indictment, so he could not comment on the charges. Spectrum "will review the indictment and decide what to do at a later date" with regard to the future of Mr. Paterek, Mr. Freitag said.