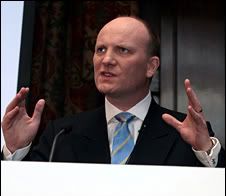 Declan Ganley attempts to impose the tyranny of mediocrity on Europe



Libertas are running 40 League of Polish families members in Poland
Here is some information about the party.
A vote for Declan Ganley, Caroline Simons or Raymond O'Malley or Libertas is a vote for the League of Polish Families.
http://news.bbc.co.uk/1/hi/world/europe/4754079.stm
Polish nationalism resurgent
By Jan Repa
BBC Central Europe analyst
The enlargement of Poland's conservative government by two parties, variously described as populist, nationalist or anti-EU, is proving controversial.
It has evoked unease in Brussels, among Jewish organisations in the West, and among politicians and political commentators in neighbouring countries like Germany.
Students protested in Warsaw against the new education minister
An official in the government has also quit her job in protest against the populist Andrzej Lepper being invited to join the government as agriculture minister and deputy prime minister.
Irena Lipowicz was in charge of Polish-German relations at the foreign office.
Her departure followed the resignation of veteran diplomat Stefan Meller as foreign minister.
New education minister Roman Giertych, an ultra-conservative Eurosceptic, is also a controversial figure.
Last September's Polish parliamentary elections proved a disaster for the then ruling ex-communist Democratic Left Alliance.
It had reconstituted itself in the early 1990s as a Western-type social-democrat party and claimed to draw inspiration from the UK's New Labour and its leader, Tony Blair.
In its place came the Law and Justice Party (PiS).
Traditional values
Law and Justice pursues a conservative social agenda - opposed to more liberal abortion legislation, gay marriages and the legalisation of "soft" drugs.
It would also like to reinstate the death penalty.
Eurosceptics have joined the conservative government

Its economic policies have been described as "centre-left": a strong state-run welfare system and continued state ownership of several strategic industries.

Law and Justice supports further EU integration "on terms advantageous for Poland". It also continues to back Polish military involvement in Iraq.

More controversially, from a Central European perspective, Law and Justice leaders claim that Poland's peacefully negotiated transition to democracy, 17 years ago, was actually a "stitch-up" between the Communists and a coterie of centre-left dissidents.

They perpetuated some of the abuses of the old system and sought to marginalise people of a more traditionally patriotic persuasion, the party says.

Hence Law and Justice's claims to be carrying out a root-and-branch clearing out of corruption and to be building a new Polish "Fourth Republic".

Controversial leader

Since Friday, Law and Justice has been joined in government by two even more controversial parties: Self-Defence and the League of Polish Families.

Self-Defence now have the ministries of agriculture and maritime economy, while the League has the education portfolio.

Self-Defence was founded in 1992 as a pressure group representing certain rural interests: former collective farm labourers, small local businessmen, and lower-level members of the Communist-era rural bureaucracy.

It drew attention to itself by noisy demonstrations - blocking roads and depositing manure outside government offices.

Latterly, it has smartened its image and sought to broaden its appeal to the urban working and lower-middle classes. It had its best result so far in September's parliamentary elections, winning 12% of the vote.

Self-Defence's former opposition to the European Union is tempered by the knowledge that many of its supporters now benefit from EU subsidies.

In joining the government, it has also agreed to tone down earlier claims that social welfare spending could be boosted by increasing the national debt and by raiding Poland's currency reserves.

Self-Defence has also tried to forget some of the more controversial assertions of its leader, Mr Lepper, who once praised Adolf Hitler's economic policies and claimed that Poland should cultivate close relations with Russia and Belarus.

Conservative Catholics

The League of Polish Families has a much older political pedigree.

Established five years ago from a fusion of several so-called "Catholic-nationalist" groups, it claims to be the successor of Poland's main pre-war right-wing opposition party - the National Democrats.

Its leader, Roman Giertych, is the grandson and great-grandson of prominent National Democrat politicians.

The National Democrats called for a centralised state, in which the Catholic Church - as a symbol of national identity - would have a privileged position.

They advocated the forced assimilation of national minorities and the elimination of Jewish influence in business and the professions.

Vehemently anti-German, they urged Poles to overcome their traditional prejudices and seek a close understanding with Russia.

The League of Polish Families campaigned against Polish membership of the European Union.

Its youth wing regularly takes part in anti-gay and anti-abortion demonstrations.

It opposes "excessive" foreign investment - and wants the state to retain control of "strategic" enterprises.

Like Self-Defence, it has called for the immediate pull-out of Polish troops from Iraq.

The League won 8% of the vote in September's elections - but has since declined in opinion polls.

http://blogs.telegraph.co.uk/david_r..._day_in_europe

Not the best of days today for David Cameron, the Conservative leader, as he struggles to fulfil a pledge to create a new Eurosceptic grouping in the European Parliament, and pull British MEPs out of the main centre-right grouping there, the EPP.

The Conservatives are looking lonely in Brussels
As this blog has discussed before, there are two main foreign partners in the frame, the Czech ODS party, and the Polish Law and Justice (PiS) party. On both fronts, Cameron had a bad day.
The Czechs first. As the Daily Telegraph revealed last week, David Cameron went to Prague last week for a secret meeting with Mirek Topolanek, the ODS leader.
What happened at that meeting is supposed to be a secret, but someone gave me a read-out today. In essence, the Czechs seem to have fudged what they told Cameron: we are not ready to make a break from the EPP just now, but have not ruled it out, they said.

It is true Topolanek is busy. The ODS won last month's general elections, but did not win big (as they say in the US). Even after forming an alliance with two smaller parties (the Greens and the Christian Democrats) the parliament is now hung, 100 to 100, and that is blocking all moves to form a new government. The ODS coalition cannot even get a speaker elected, which is a vital first step to taking office.

So the Czechs do not want any distractions, especially one that might annoy their potential coalition partners. That means no sudden moves in Europe. The fate of the ODS leader in the European Parliament, Jan Zahradil, is also intriguing. Zahradil is a big supporter of joining the British Tories in a new group. His British Eurosceptic friends were all predicting he would deliver on that, not least as he was about to become the new Czech foreign minister.

But when the ODS published its draft cabinet list, the posts of foreign minister and Europe minister have been earmarked for pro-EPP candidates, both of them former diplomats. Zahradil has been given nothing.

And the Poles? They are desperate to join the new group, because they are sick of being painted as extremist fruitcakes, and joining the British Conservatives would be a powerful symbol for them back home that they are mainstream politicians. The problem is, to keep power back in Poland, Law and Justice recently forged a formal coalition with two parties that can best be described as extremist fruitcakes. In the process, Law and Justice handed senior cabinet posts to some unsavoury types from the "Self-Defence Party" (hates free trade), and the "League of Polish Families" (hates gay people, hates foreigners, has a youth wing with a track record of venomous anti-Semitism).

Thanks to League ministers, the Polish government just nominated a young man as deputy head of the Polish state broadcaster, whose name and home address used to appear on the masthead of a neo-Nazi magazine, filled with anti-Semitic paranoia, and articles about the SS.

So why was today a bad day in Europe for Cameron's Polish allies? Because the League of Polish Families went off on another, highly embarrassing, rant. The occasion was a debate at the European Parliament, to mark 70 years since General Franco seized power in Spain.

One by one, MEPs stood up to mourn the Spanish civil war, and the years of the Franco dictatorship. And then up stood Maciej Giertych, a League member, and father of the League's leader, Roman Giertych (recently made a deputy prime minister by Law and Justice).

Giertych senior decided it was time to hail Franco and his Fascist party, for preventing Communist rule in Spain and protected the Roman Catholic church.
"Thanks to the Spanish right, to the Spanish army and its commanders, and in particular thanks to General Francisco Franco, the Communist attack on Catholic Spain was thwarted," Giertych said.
"The presence in European politics of such people as Franco ... guaranteed the maintenance of traditional values in Europe," he concluded, setting off furious protests from other MEPs.
Now, it is only fair to note that nobody is suggesting the League of Polish Families should be in the new Tory-led Euro-group. The League is a separate party from Law and Justice. In fact, it does not even sit in the same group as Law and Justice in the European Parliament.
But can David Cameron expect every British media outlet to make that distinction? Or the Labour Government? It is not that hard to imagine them saying that the allies of Mr Cameron's new allies are fascist sympathisers.
Does that matter? My sense is: it matters enough that Cameron and William Hague, his shadow foreign secretary, would greatly prefer to form a new group with the Czechs and the Poles, rather than just with the Poles. Is that a deal-breaker? The next few weeks will tell us.
http://www.disinterestedparty.com/ar...rse_polish.htm
ovember 3, 2006
Reverse Polish logic
Under the headline "Darwin under fire in Poland," Spiegel Online has this depressing little item:


Poland's deputy education minister has called for Polish schools to ditch Darwinism in favor of creationism. His party is also well known for gay bashing and for wanting to introduce the death penalty.
… Orzechowski is intent on keeping Darwinism from falling into the wrong heads. In a recent interview, he com-
mented that it was "sad" that the "lie" of the evolution theories of Charles Darwin were being taught in Polish schools, and called for a debate on whether Darwin's theories should be purged from the school curriculum.
Orzechowski's position is not totally surprising. The minister belongs to the ultra-Catholic rightwing party the League of Polish Families (LPR), a junior partner in Poland's conservative government. Other European governments have been alarmed by the LPR's campaigns against gay rights, their purported anti-Semitism, their support for an abortion ban, and their calls for a re-introduction of the death penalty (something which would be illegal under European Union law).
Orzechowski believes that creationism, which he described as a "truth of civilization" that has been "confirmed by thousands of generations", should be taught instead of Darwinian theories. The Darwinist idea that apes and people were related was "pseudo-science" for "non-believers," he said.
… Orzechowski is not the first in the LPR to come out in favor of creationism. LPR Member of the European Parliament Maciej Giertych organized a creationism conference at the European Parliament in October, where he said Darwinism should not be taught in schools. Giertych, who is a biology professor by trade, claimed that humans had had contact with dinosaurs and that Neanderthals continue to live among us.
And apparently they live in Poland.
Nie, a Polish newspaper, has a different theory. In an article on Orzechowski and his fellow creationist crazies, it noted that some people clearly had "donkeys rather than apes as their ancestors."
http://www.europarl.europa.eu/sides/...V&detail=2-016
| | |
| --- | --- |
| 0 years after General Franco's coup d'état in Spain (Statements by the President and the political groups) | |



Maciej Marian Giertych (NI ). – (PL) Mr President, the fact that today, throughout Central and Western Europe, we have democracy, civil liberties, private ownership and tolerance is due to the fact that Communism did not take hold on our continent, although it could have. In Eastern Europe, a dam against Communism was created by the victorious battle of the Poles against the Bolsheviks in 1920 and the decisive resistance of Catholic Poland against enforced Soviet dominance.

The fact that Communism did not take root in the West is largely thanks to the victorious civil war fought by traditional Spain against Communist governments. Although it came to power democratically, the Spanish left behaved in a similar manner to the left in Bolshevik Russia, where the main target of attacks was the Church. Almost 7 000 priests were murdered. Churches were desecrated, roadside crosses and holy statues were shot at. Traditional forces immediately responded to this attack on Catholic Spain.

The International Brigades, organised by Bolshevik Russia, came to the aid of Communist Spain. In accordance with Communist custom, these brigades were entirely controlled by Communist party cells and their secret services, as was the whole republican regime. Thanks to the Spanish right, the Spanish army, its leaders and thanks to General Francisco Franco in particular, the Communist attack on Catholic Spain was thwarted. By the same token, attempts to spread the Communist plague to other countries were also halted.

The presence of figures such as Franco, Salazar or De Valera in European politics ensured that Europe maintained its traditional values. We lack such statesmen today. It is with some regret that we observe today the phenomenon of historical revisionism, which portrays all that is traditional and Catholic in an unfavourable light and everything that is secular and socialist in a favourable light. Let us remember that Nazism in Germany and fascism in Italy also had socialist and atheist roots.

The power wielded by the socialist and anti-Catholic bloc in this House is cause for great concern. We saw clear examples of this power during the voting last month on the texts on tolerance and the Seventh Framework Programme. Christian Europe is losing the battle against a socialist and atheist Europe. This has to change!

(Protests)
http://barthsnotes.wordpress.com/200...krolem-polski/
Posted on
December 21, 2006
by Richard Bartholomew
Reuters reports:
Some Polish lawmakers want to make Jesus the honorary king of their overwhelmingly Catholic country, Rzeczpospolita daily newspaper reported on Wednesday.

…Deputy Artur Gorski said some of his colleagues 'were praying in the parliamentary chapel for (Jesus') coronation.'
Gorski is a member of the ruling Law and Justice Party; the proposal is backed by the far-right League of Polish Families and the Polish Peasants' Party:
Wojciech Wierzejski, a top LPR MP, said: "Jesus is a King in the hearts of many Catholics"
Wierzejski was formerly head of the All-Polish Youth, a violent skinhead organisation with unambiguous Neo-Nazi tendencies, as I blogged just recently. He is also notorious for calling for violence against a gay-rights parade:
gay by definition is a coward, so when German politicians get a number of baton-hits, then they will not come again.
Gorski, meanwhile, has a theological background, as noted in Warsaw Voice:
Nasz Dziennik, an eight-page tabloid-format newspaper costing zl.0.70, intends to fill the "Catholic press void." Artur Górski, the newspaper's editor-in-chief who graduated from the Catholic Theological Academy, was a journalist for the Polish Press Agency and is a Monarchist Club activist. He describes his newspaper as right-wing Catholic…
Details of the "Monarchist Club" in English are scarce; however, the Polish Wikipedia entry includes subheadings such as "Katolicki tradycjonalizm" and "Antydemokratyzm". For those who read Polish, Gorski explains his campaign on his website.
The Reuters report adds:
…If the motion becomes law, Jesus would join a Virgin Mary icon that was made honorary queen of Poland in the 17th century after she was believed to have helped turn the tide in a battle with Sweden.
Time magazine explained the circumstances in 1983:
For Poles, the Black Madonna of Czestochowa is far more than an object of Roman Catholic reverence…By legend, the painting is attributed to St. Luke the Evangelist, and was executed on a table top from the house of Mary, Joseph and Jesus in Nazareth.

…The Madonna's status as an emblem of Polish nationalism dates from Sweden's invasion of the country in 1655. For 40 days, as the Swedes surrounded the monastery, the monks prayed to the Virgin for deliverance. The siege failed, and the Poles subsequently drove the Swedes out of the country. In gratitude, the reigning Polish monarch, Jan Kazimierz, dedicated his throne and the country to "the Virgin Mary, Queen of Poland."
The Virgin Mary's status as Queen of Poland was re-established fifty years ago, and was the subject of anniversary celebrations in August (such as this one in Scotland).
This time, though, the enemy is not the Swedish army, but European secularisation:
"Poland's deep spirituality may be able to rescue Europe from drowning in a lack of faith and morality," the authors of the declaration said in their justification of the initiative.
However, the Catholic Church in Poland appears sceptical of this attempt to revive the spirit of Jan Kazimierz:
"Let parliament deal with passing better laws that we need," Gdansk Archbishop Tadeusz Goclowski said.

"This kind of action, although it may stem from good will, sounds a bit like propaganda," said bishop Tadeusz Pieronk.
And:
Archbishop Leszek Slawoj Glodz said: "Let bricklayers build apartments, tailors sew dresses, and MPs not interfere in things they do not know anything about.
"MPs should pray and s
http://www.catholicnewsagency.com/new.php?n=9907
Lawmakers present proposal to proclaim Christ King of Poland
Warsaw, Poland, Jul 18, 2007 / 11:35 am (CNA).- Forty six Polish lawmakers signed a proposal last week that would proclaim Christ as King of Poland. The idea is being promoted by the League of Polish Families, the Law and Justice Party, and the Party of Farm Workers.
Representative Artur Gorski of the Law and Justice Party is leading the initiative. "We want Jesus Christ to be named king of the Poles," he said, adding that, "More than ever Poland needs leadership and divine help to face new times. Some may mock our proposal, but for me it is a question of religious sensibility and political respect," Gorski said in an interview with the Polish daily Gazeta Wyborcza.
He said he was hopeful the Church would support the measure. "All I can say is that since I first spoke of this idea I have received nine thousand letters of support," he stated.
350 years ago King John II Casmir proclaimed the Virgin Mary as Perpetual Queen of Poland.
The president of the Congress, Marek Jurek said, "Before debating anything we need to know what the Church thinks."
http://poland.pl/news/article,League...,id,233690.htm
League of Polish families calls for restoring death penalty
2006-08-03, 11:48
The rightist League of Polish Families, a minority party in the ruling coalition, demands changes in the Polish penal code announcing a campaign to restore the death penalty. The party has launched an action aiming to collect half a million signatures on a petition demanding capital punishment for pedophile murderers.
The League of Polish families also calls for a national referendum in which Poles would answer two questions: whether they support the capital punishment for murderers of children under 15 and whether they consider pedophile a crime. Wojciech Wierzejski who heads the committee said that the present methods of educating criminals are ineffective and so death penalty should be introduced.
The initiative has met with outright criticism from the European Union, which said that the death penalty is not compatible with European values. The action of the League of Polish families follows a recent statement by Poland's president Lech Kaczynski who said that the EU should consider a debate on restoring death penalty. Last week Kaczynski said that giving up capital punishment is awarding advantage to the criminal over his victim. Poland abolished capital punishment in 1997 after a moratorium in 1998.
http://barthsnotes.wordpress.com/200...azi-assistant/
Posted on
December 9, 2006
by Richard Bartholomew
Back in October, Nature published an article about Creationism in Poland:
…"The theory of evolution is a lie," Miroslaw Orzechowski, Poland's deputy education minister, told the newspaper Gazeta Wyborcza on 14 October. "It is an error we have legalized as a common truth."

The LPR [Liga Polskich Rodzin, League of Polish Families] entered the ruling coalition in May 2006. Its leader, Roman Giertych, is also known to favour creationist views. These, as well as his openly homophobic, anti-Semitic and nationalistic opinions, have sparked student demonstrations in Warsaw since he took the minister of education job in May.

Giertych's father, Maciej Giertych, is an LPR member in the European Parliament and is lobbying for obligatory inclusion of creationism in Polish biology curricula. Maciej, who holds a PhD in tree physiology from the University of Toronto, Canada, claims darwinian evolution is refuted by scientific evidence.
Maciej Giertych then wrote to Nature, bizarrely complaining that he was not a Creationist, but that he believed all the Creationist arguments: microevolution is a reduction in genetic information; there are no positive mutations; dinosaurs co-existed with humans; and so on. Giertych's assertions were dismantled by numerous scientists in a subsequent issue, and these have been preserved at Pharyngula. The most interesting was from Ulrich Kutschera of the University of Kassel, who refered to an earlier report about Creationism at the European Parliament:
Your Special Report "Anti-evolutionists raise their profile in Europe" (Nature 444, 406407; 2006) mentions a seminar held in Brussels at the European Parliament on 11 October 2006, as part of a new strategy by supporters of intelligent design (ID) to disseminate anti-evolutionism among the general public of Europe.

…The anti-evolution seminar was a series of three public lectures, introduced and moderated by Giertych, who is the retired head of the genetics department of the Polish Academy of Sciences and an honorary member of the Daylight Origins Society, a Catholic creationist organization based in Britain. The seminar was co-organized by Dominique Tassot, director of the Centre d'Etude et de Prospectives sur la Science, an association of 700 Catholic intellectuals who do not accept macroevolution because it is in conflict with their interpretation of the Bible…
Maciej and his son Roman Giertych have been featured on this blog before; Roman is the education minister, and his League of Polish Families has also been vocal in opposing gay rights. WorldNetDaily covered a sinister march through Warsaw organized by the group, while declining to tell readers about its far-right philosophy.
Roman Giertych is also the honorary chairman of the All Polish Youth, a skinhead group that he used to lead. A few days ago a 2004 video surfaced which showed All Polish Youth at a neo-Nazi rally, complete with burning swastika, Nazi flags and "Sieg Heil"s. One detail:
The newspaper [Dziennik] said a young woman in the video was Leokadia Zwiazek, an assistant of Giertych's father Maciej Giertych who is a member of the European Parliament and the LPR.

But Giertych denied the accusation and asked prosecutors to investigate the incident.
However, shortly thereafter Zwiazek was dismissed. Roman added:
"Anyone who propagates the swastika in Poland is not only an idiot, but also a criminal,"…
So you see, Maciej and Roman Giertych are not neo-Nazis. In the same way that they're not Creationists.
****
Meanwhile, Maciej's younger brother Fr Wojciech Giertych is keeping a low profile – as I noted a year ago, he's the current "Theologian of the Papal Household", which means he sub-edits the Pope's writings and speeches. Of course, he's not his brother's keeper, but one would like to know just what links, if any, he keeps with his far-right family.
http://www.adl.org/PresRele/ASInt_13/4980_13.htm
Racist Pamphlet Shows Anti-Semitism In Poland Is 'Alive And Well'
New York, NY, February 16, 2007 … The publication of an anti-Semitic and racist diatribe by a leading Polish member of the European Parliament shows that "anti-Semitism is alive and well in Poland," the Anti-Defamation League (ADL) said today.
"Civilization at War in Europe," a pamphlet published by European Parliament member Maciej Giertych, accuses Jews of "jealously nurturing their chosenness" and suggesting that Jews are a "tragic community … who did not recognize Jesus Christ as the awaited Messiah." Giertych's son, Roman Giertych, leads the far-right League of Polish Families (LPF) and is Poland's Education Minister.
"Maciej Giertych's pamphlet is anti-Semitic and racist from beginning to end," said Abraham H. Foxman, ADL National Director, who was born in Poland and is a Holocaust survivor. "It shows that anti-Semitism is not only alive and well in Poland, but is viewed by some as a commodity to be exported to the rest of Europe -- a commodity of hate.
"As Poland knows too well from its history, when anti-Semitism is permitted to flourish, democracy and freedom are at risk," added Mr. Foxman. "It is shameful that members of the parties in the governing coalition in Poland, and in the European parliament, continue to stand silent as their fellow parliamentarians give voice to anti-Semitism, racism and bigotry."
The Giertych pamphlet, published February 14 and made available on his Web site, contains outright anti-Semitic assertions and rehashes age-old stereotypes, such as the claim that the Jewish religion encourages dishonesty in business dealings. The pamphlet also makes false claims about Jewish history by suggesting, for example, that until the advent of the Nazis, Jews voluntarily lived in ghettoes. Credible scholarship recognizes that the ghetto was enforced on European Jewry.
In 2006, ADL published the report, Poland: Democracy and The Challenge of Extremism, which outlined serious concerns about the inclusion of anti-Semitic and xenophobic parties in Poland's governing coalition.
The Anti-Defamation League, founded in 1913, is the world's leading organization fighting anti-Semitism through programs and services that counteract hatred, prejudice and bigotry.